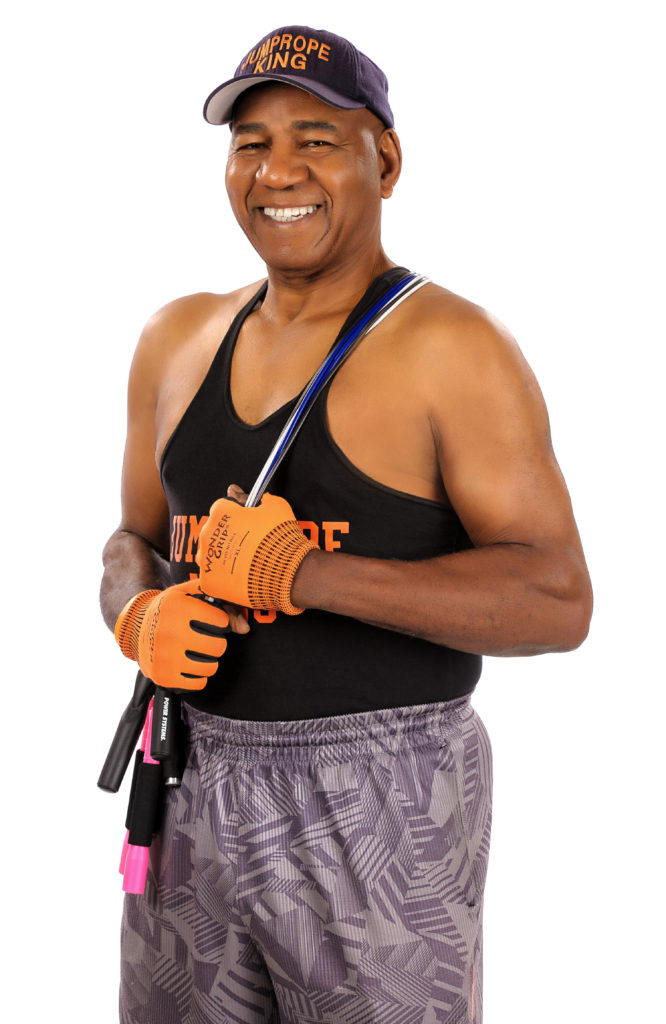 The Jump Rope King's Story
Nat Jackson is the fastest jump-roper of his age in the country. He set a new national jump rope speed record on the Steve Harvey Show "Forever Young" in April, 2017, and he was certified by USA Jump Rope as "Jumprope King", the fastest seventy and over in the US. (airs on national TV June, 2017). Nat uses awesome, high speed rope jumping to inspire audiences and visually underscore the importance of wellness and optimal conditioning.
Nat Jackson is Founder and President of Wellness Plus which focuses on Optimal Cellular Health, Weight Release, Childhood Obesity, Athletic Conditioning, and Corporate and Individual Wellness.
As a motivational speaker-jumper he has appeared before regional and national organizations including the 2016 NPC Emerald Cup, WSDOT Senior Managers, cities of Olympia and Shoreline Departments of Parks and Recreation, Rotary International Clubs, Shape America 2015 National Conference, Realtors, YMCAs, and many others. Seattle based KING 5 TV, KONG TV, KOMO Radio and other media have reported about Jump-rope King.
Nat was a Senior Assistant to three term WA Governor, Dan J. Evans for 4 years. He headed the Governor's Human Services Cabinet with responsibilities for the State Department of Social and Health Services (included the Departments of Health, Corrections, Aging and Veteran Affairs), Departments of Labor and Industries, Employment Security and State Human Rights Commission. He was the Governor's Lead Human Services Liaison to the National Governor's Association in Washington, DC.
He then founded Nat Jackson & Associates, Inc., a diversified Management Services Company with three divisions Communications Technology, Educational Services, and Lottery Support, and served as Chairman and CEO for 22 years . Nat guided the company to become a multi-million dollar business with 42 employees before moving his focus to his passion of wellness.
Through it all, he knew that maintaining his energy and health was the key to being effective in every area of his life. His health is his secret weapon and he wants to help you get the same edge to create the life of your dreams.
Next Steps...
Let Nat show you and your company how to change the results you are getting in every area by increasing energy, health and wellness.